Date: February 2003
An array to choose from!

Nicomatic's range of metal dome arrays have been especially designed to give an enhanced tactile feel to traditional keypads - providing a low cost replacement for the tact type switch and other short travel switches.
The arrays - manufactured by Nicomatic - utilise the Nicomatic patented SwitchAir four legged metal domes to give the best in tactile feedback. The domes have small bumps on each of their feet, which creates a cushion of air between the domes - a revolutionary new design concept that stops the domes from sticking together. All domes as standard are also nickel plated to avoid the risk of contamination.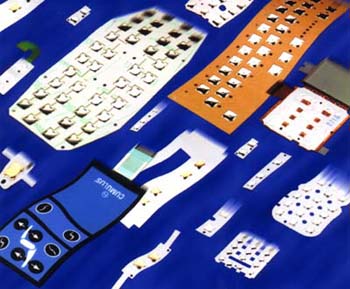 As well as eradicating all risk of sticking, this new design of dome ensures efficient and reliable automatic placement. In addition the manufacturing process ensures that all domes are consistently produced to the same standard, shape and size avoiding the potential problem of different keys having a different feel.
The domes are available in 5mm, 5.6mm, 8.4mm and 12mm in a range of forces from 170gr and 210gr - 400gr with the option of having one side gold plated if requested. The arrays are custom developed to individual requirements and specifications and are supplied pre-positioned on adhesive material with a paper release ready for sticking direct onto the PCB. An additional process now available also means that arrays of pre-positioned domes can be directly assembled onto plastic or rubber keypads.
If you would like to find out more contact Ian Ridpath at
Nicomatic (UK) Ltd
Unit 8
Campus 5
Third Avenue
Letchworth
Hertfordshire
ENGLAND
SG6 2JF
Tel: +44 (0)1462 677886
Fax: +44 (0)1462 677499
Email ian.ridpath@nicomatic.co.uk