Date: July 2001

ECIF/Onboard Press Information - Switch to Nicomatic
Like a blast of fresh air, Nicomatic's new domes in tubes explode into ECIF this year on stand E74. Utilising the latest in SwitchAir technology, Nicomatic have developed a complete system that's revolutionised metal dome technology to a new and highly competitive standard.

Metal domes are being used more and more to give an enhanced tactile feel/effect to rubber/membrane keymats, as well as offering superior temperature characteristics. This avoids the tactile deadening effect that can be experienced with formed polyester type products in higher temperature applications.

The domes, which are available in three different sizes, with or without dimple and with a range of force have an excellent tactile effect, a long life cycle, no burrs (thus eliminating the excavating effect) and come with nickel plating as standard (gold is also available as an option). But it's the patented "SwitchAir" notch (that creates a cushion of air between domes) that stops the domes from sticking together - removing the possibility of "double-doming" and ensuring efficient and reliable automatic placement.
The domes offer the versatility of being available to order in bulk quantities, as custom made arrays and more recently in tubes. The domes may then be positioned directly from the tubes with Nicomatic's range of Pick and Place Machines.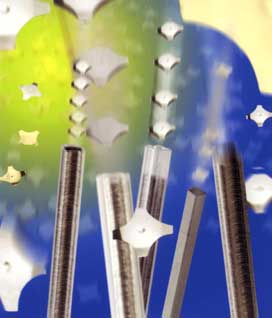 Nicomatic offer an extensive range of equipment from a low cost Tube Work Station, Pick and Place Machines to Automatic Dome Placement machines - placing up to 5000 domes per hour. Domes can be placed on to different kinds of membrane switchboards and printed circuit boards. In addition, metal domes can be directly placed upside down on adhesive films in order to make dome arrays.
The 848 Dome Pick and Place machine for example can be equipped with up to four magazines, each receiving two tubes of about 1000 domes. As each magazine can be loaded with a different kind of dome (regardless of size, plating and force), it means the machine can place domes of different types on the same membrane switch board without any tool change.
Combining the use of Nicomatic's SwitchAIr non-stick domes with its range of automatic placement machines, can drastically reduce positioning costs, increase assembly rates and allow for much more precise placement.

If you would like to find out more contact Ian Ridpath on 01462 677886 or by email ian.ridpath@nicomatic.co.uk
Nicomatic (UK) Ltd
Unit 8,
Campus 5
Third Avenue
Letchworth
Hertfordshire
ENGLAND
SG6 2JF
Tel: +44 (0)1462 677886
Fax: +44 (0)1462 677499
Email ian.ridpath@nicomatic.co.uk