Date: May 2003
BENDING OVER BACKWARDS TO KEEP ITS CUSTOMERS HAPPY!

Nicomatic's selection of flexible flat cable has something for everyone. Available in a range of different pitches from 0.5mm up to the standard 2.54mm, it is only 0.05mm thick - making it incredibly flexible and versatile.
Ideal for applications such as DVD driver, CD Rom driver and CDP as well as audio/video, scanners, printers, cordless phones, fax machines and many more, each style offers the option of various conductor sizes and configurations. The cable can also be custom designed to individual specifications with options on length (30mm to 1,000mm), cable pitch, taping and folding or half-stripping.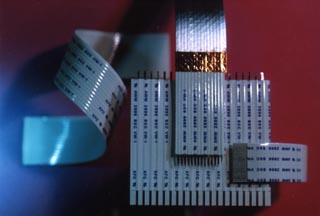 With a voltage rating of 30V (UL2896) and 60V(UL20624), it has an operating temperature of 80 C and a flexibility rating of 10,000cyles for the general cable and more than 10,000,000 for the Flex. It may be Insulated in PET/ PET, PET /PVC or POLIMIDE and is available with shielding for EMC suppression as well as providing an ideal alternative for mating with ZIF sockets. It is particularly suitable for applications where both size and flexibility are important requirements.
A variety of different termination methods are available, suitable for plugging into a ZIF/LIF, with or without stiffener or for soldering direct onto a PCB and in 4 to 90 ways. It has also received both UL and CSA approval.
If you would like to find out more contact James Hevey at
Nicomatic (UK) Ltd
Unit 8
Campus 5
Third Avenue
Letchworth
Hertfordshire
ENGLAND
SG6 2JF
Tel: +44 (0)1462 677886
Fax: +44 (0)1462 677499
Email james.hevey@nicomatic.co.uk