Date: Feb 2002
A hard decision……
With the continuous reduction in prices for IDE, EIDE and SCSI hard drives and the increase in sizes available - ie, more storage space for your money in a smaller size package - more and more applications are able to utilise them as storage devices.
In addition, a new range of hard drive connectors - introduced by Nicomatic - have been designed to replace the need for cables. Previously ribbon cable has traditionally been used for the transmitting of data - plugged into a socket on the backplane along with an individual power cable doing the same. Now however, these 2in1 hard drive connectors can be directly mounted on the backplane either vertically or horizontally.
The 2in1 Combo Connectors are ideal for drive array applications, industrial/embedded computers and set-top boxes, indeed any application requiring hard drive storage or one incorporating hard drives. Reasonably priced, they bring a new competitiveness to the installation of a hard drive into a more varied range of applications - making it a more viable and affordable option.
The "75" series (2in1) are a two in one combined unit, combining power and data. Available in 40 plus 4 and 50 plus 4, right angle/straight/straddle mount and female power socket versions, the connectors are ideally suitable for mating with IDE, EIDE and ATA drives.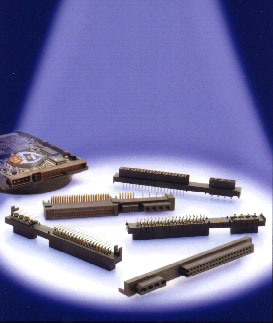 Alternatively, the 3in1 Combo Connectors have been designed to mate with SCSI-3 and wide SCSI drives and feature 68+12+4 versions in right angle and straight positions plus the 68+12+4 female power connections in a straddle mount position.

Insulated in glass filled nylon 46, UL 94V-0 rated in standard black, they have an insulation resistance of 5,000 MegOhm @ 500VDC and a processing temperature of 250°C for 60 seconds.
If you'd like to know more, or even if you're looking for a slightly different disk drive connector from that mentioned and wonder if we can help, just contact James Hevey at
Nicomatic (UK) Ltd
Unit 8
Campus 5
Third Avenue
Letchworth
Hertfordshire
ENGLAND
SG6 2JF
Tel: +44 (0)1462 677886
Fax: +44 (0)1462 677499
Email james.hevey@nicomatic.co.uk