Date: June 2002
Miniature Speakers Make a Big Noise

Small enough even for earpiece applications, the NHSB20A is just one in a
range of Miniature speakers introduced into the UK by Nicomatic.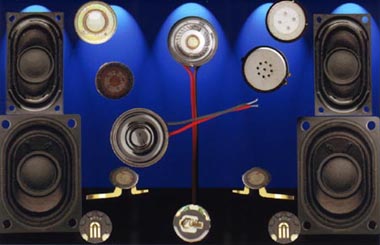 With a 20mm diameter and a 3.5mm profile, the HSB20A has a frequency range of 1000 3500Hz, a sound output of 72 3dB and a coil impedance of 8 15% . With over 20 different types in the range, with varying specifications, the speakers are suitable for applications as wide-ranging as earpieces and miniature apples to laptops, data entry terminals and miniature keyboards.
The speakers are available in a variety of different mounting methods; lead wires, spring contacts, with adhesive pads and sealing washes. If frequency range is a priority however, the HSP3040A produces a massive 450 ~ 12000 Hz at a sound output of 78 3 dB, while the HSP52A tops at a 200 ~ 13000Hz at 82 3 dB.
If you would like to find out more contact James Hevey at
Nicomatic (UK) Ltd
Unit 8
Campus 5
Third Avenue
Letchworth
Hertfordshire
ENGLAND
SG6 2JF
Tel: +44 (0)1462 677886
Fax: +44 (0)1462 677499
Email james.hevey@nicomatic.co.uk