Date: January 2000
USER FRIENDLY TEST SYSTEM - LOW IN COST
BUT HIGH ON SPEED AND ACCURACY
A new, low-cost, highly responsive Test System, introduced by Nicomatic (UK) Ltd is set to revolutionise the approach to the testing of keyboards, keypads, membranes, snap-action switches, microswitches and other general purpose switches and cables.
The Model 913A keyboard and LED Test System is used to perform 100% acceptance testing, quality assurance certification, incoming inspection and engineering development on a variety of equipment, including LED's and seven-segment displays. However while being extremely cost effective, it is also a fast acting tool which is accurate, operator-friendly and eminently more easy to learn and use than some of its counterparts.
The system – which will be demonstrated at ECIF this year - consists of a circuit card assembly (CCA) and software, installed by the user in a standard personal computer. It features 30 channels (expandable to 90) which can be configured as a x-y matrix. Resistance ranges of both 0-5,000W and 0-50,000W are featured with other ranges available on request.
A user-friendly Windows 95 software environment allows the user to create a computer screen graphic representation of the unit under test (UUT). The software then easily "learns" the relationship of the screen graphic to the UUT, comparing the user-programmed test configurations with the test results achieved. The configurations created and the test data obtained can then be saved for future use and SPC action.
During keyboard testing for example, the computer graphic displays key resistance and indicates tested and active keys by changing colour. An audio tone is sounded if a key's resistance is equal to or below the resistance specified. LED voltage levels are measured and illuminated in sequential order on the UUT and displayed for immediate visual inspection.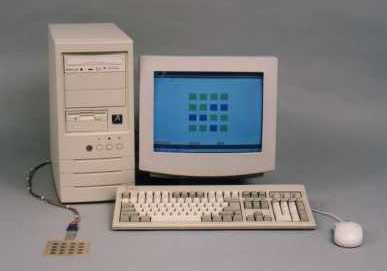 Model 913A Keyboard & LED Test System
New keyboard & LED test system performs 100% acceptance testing with documentation.
If you would like to find out more contact Ian Ridpath at
Nicomatic (UK) Ltd
Unit 8,
Campus 5
Third Avenue
Letchworth
Hertfordshire
ENGLAND
SG6 2JF
Tel: +44 (0)1462 677886
Fax: +44 (0)1462 677499
Email ian.ridpath@nicomatic.co.uk