Date: February 2003
The Perfect Combination
To meet increasing demand from the industry, Nicomatic are now able to offer the PC104 Combined connector. This Combi connector has been developed to reduce both assembly time - by only having to insert one connector into the PCB - and cost, as by purchasing one connector to do the job of two, saving's of up to 15% can be achieved over the costs of two connectors.
The PC104 Combined combines two ultra-compact (3.6" x3.8") stackable modules - the 40 and 64way - into one unit.
And, as with the PC104 and PC104 Plus, the PC104 Combined has been developed with integral solder allowing all pins to be soldered at one time using standard reflow processes. The Combined comes as a stackthrough and non-stackthough module and as a four-row right angle 104-pin header.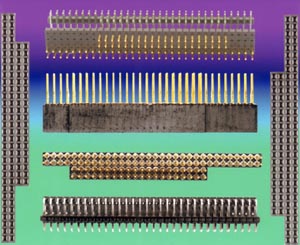 The PC104 offers full architecture, hardware and software compatibility with the PC bus, but in ultra-compact (3.6" x 3.8") stackable modules and is therefore particularly suited to the unique requirements of embedded control applications. The modules are designed to be stacked instead of using a backplane with usually about 0.6" between each module. With stackthrough and non-stackthrough modules available, a custom controller can be created with minimal effort.

For more information regarding our range of PC104 products contact James Hevey at
Nicomatic (UK) Ltd
Unit 8
Campus 5
Third Avenue
Letchworth
Hertfordshire
ENGLAND
SG6 2JF
Tel: +44 (0)1462 677886
Fax: +44 (0)1462 677499
Email james.hevey@nicomatic.co.uk