Date: July 2000
LOW PITCH ZIFS AT A PINCH
Nicomatic now have a new and extended range of LIF/ZIF sockets, both SM and leaded, ideally suited for FPC (flexible printed circuits)and FFC (flexible flat cable) applications.
Available in a variety of pitches, from 0.5mm and 0.8mm through to 1mm and 2.54mm. The 0.5mm SMT connector achieves a reliable fitting by using a single action slider providing a reliable lock against the bottom contacts. In addition, the profile above the board may be as low as 1.8mm, ensuring that the precious space required for highly integrated mounting can be utilised far more effectively.
The 0.5mm and 0.8mm SMT connectors have a nylon insulator and phosphor bronze contacts and are available in 5-30 and 3-30 ways respectively. The 1mm and 1.25mm spacing FPC/FFC connectors adopt a UL-94VO classified material for the insulator. Contact finish is tin/lead over nickel. A choice of upper and lower contact configuration is available with integrated support mounting brackets.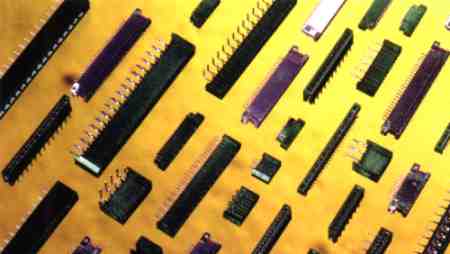 The range also includes leaded connectors with a pitch of 1mm, 1.25mm and 2.54mm in a DIP format with and without kink. Dual contact versions are also available.
If you would like to find out more contact James Hevey at
Nicomatic (UK) Ltd
Unit 8,
Campus 5
Third Avenue
Letchworth
Hertfordshire
ENGLAND
SG6 2JF
Tel: +44 (0)1462 677886
Fax: +44 (0)1462 677499
Email james.hevey@nicomatic.co.uk